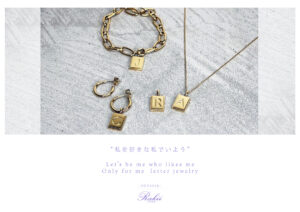 NEW ARRIVAL
-letter jewelry-​

2021.8.20 new arrival
Rakii's long-awaited initial charm
New items that can be customized have arrived

concept is ..
 ̄ ̄ ̄ ̄ ̄ ̄ ̄
"Let's be me who likes me"
Let's be me who likes me
only for me letter jewelry

To be yourself
Special jewelry only for me
All with surgical stainless steel (SUS316L)
Because we are making
Not only can it be used by people with metal allergies
It is resistant to sweat and water, and you can leave it in the bath.
You can use it.
Get close to your daily life ...
I finished it as my own jewelry.
Please take this opportunity to take a look.
This season's recommended necklace has a cute presence and design.
Available in 4 colors, in addition to the standard gold and silver
The popular GL x SV / PG x SV color scheme
I made it.
Bring the front part a little diagonally
You can hang it for a long time and use it
It is a many way item that can be used in various ways!
Every item is full of commitment
I just recommend it
In this great 4 days
Please check it out